Every week we highlight new funding successes from companies bringing about change in their industries.  We amplify the voice of companies delivering on tech innovation whilst also utilizing remote work, or being clear on the importance of D&I to their brand. All ingredients that talent.ai focus on when selecting the best of tech funding from the last 7 days.
We see these journeys as an inspiration, offering insights to other founders, startups and innovators looking to evolve their stories into something extraordinary.  We know the hard work behind these accomplishments and always seek to recognise and applaud those involved from leadership and founders and their entire teams. 
Congratulations to all the founders and teams! 
Seed
ThreatFabric
CEO & Co-Founder – Cengiz Han Sahin
CTO – Niels Croese 
ThreatFabric provides financial institutions with fraud detection and security threat solutions to reduce fraud and safety risks. The company provides two main safety products. Mobile Threat Intelligence (MTI) which supports users, and Client Side Detection (CSD) which is based on malware detection and risk status.
Amsterdam-based ThreatFabric closed on a €11.5 Million seed round last week co-led by ABN AMRO Ventures and Motive Ventures, with participation from others. This security company hopes to stand out on its double-front safety measures, authenticating users as it also tracks and indicates potential threats. 
New funds will be used to further develop its fraud detection technology with a focus on behavioural-based prevention and innovation. Fraud costs banks billions each year and it keeps getting more sophisticated. So, solutions likeThreatFabric are not only popular but necessary. 
Salsa 
CEO & Co-Founder – John Kramer
CTO & Co-Founder – Juan Barroso 
Salsa is a payroll technology provider building payroll APIs that can be embedded directly into software platforms. Salsa's payroll solution allows clients to embed payment into their platforms to handle employee compensation and compliance quickly and efficiently. 
San Francisco-based Salsa secured a $10M seed funding round last week from Greycroft, Better Tomorrow Ventures, Definition and other investors. Its innovative payroll solution can reduce the creation of functioning payroll from years down to a month. 
New funds will be used to further develop its payroll solutions. Salsa expects to end 2023 with a %400 revenue growth. Its payroll solution also covers taxes, compliance and calculations. Turning a complex task into a simple solution is a sure way to the top! 
Series A
Viceversa
CEO & Co-Founder – Matteo Masserdotti
CTO & Co-Founder – Pedro Salvi 
Viceversa is a fintech startup providing revenue and data-based financing to companies while supporting sustainable and ethical growth. Viceversa has been a pioneer in revenue-based financing. Helping startups access capital quickly and with flexibility, then using a percentage of the company's gross revenue to pay for the amounts invested.
Milan-based Viceversa closed a Series A funding round of $10 Million last week led by CDP Venture Capital, bringing its total funding to $33 Million. Less than a year after being launched the company is present in 6 European countries and has an impressive growth rate of over %150. 
Viceversa which received the Innovation of the Year recognition at this year's Fintech Awards will use its new funds to continue expansion. Proof that being the first to introduce innovation can pay off in big ways! 
Prewave
Managing Director & Co-Founder – Dr Lisa Smith 
Managing Director  & Co-Founder – Harald Nitschinger 
Prewave is a chain risk management platform that uses and analyses its client's data to give accurate risk assessments. The company already has hundreds of users and well-known clients like BMW, Lufthansa, and more. 
Vienna-based secured an additional Series A $18 Million funding round last week led by Creandum, a leading European VC behind huge startups like Spotify or Klarna. Prewave is aiming to become an all-inclusive solution for supply risk management, striving to include the full cycle in its services, and eliminating sustainability risks for its clients. 
This last investment round will go towards expansion in markets and internal growth. Prewave was already part of our funding rounds and we are excited to continue following its growth journey!
Series B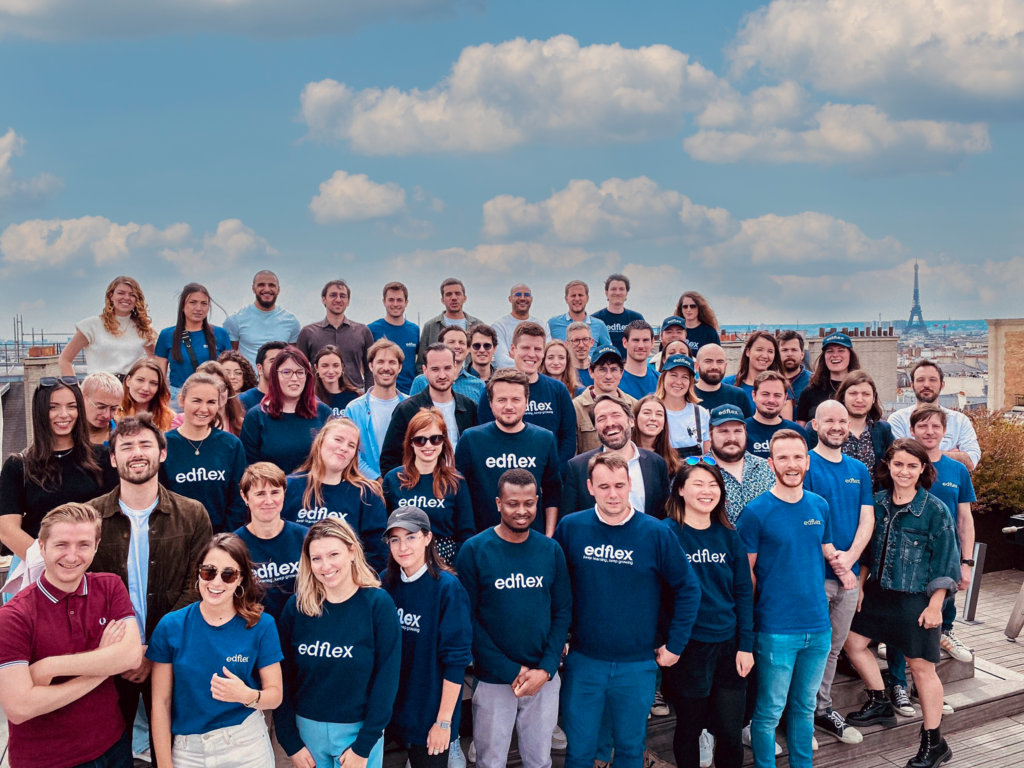 Edflex
CEO & Co-Founder – Clement Meslin
CPO & Co-Founder – Rémi Lesaint 
Edflex is an EdTech startup for upskilling and corporate training that offers different formats for educational content in one platform. Edflex helps its clients make training content more understandable and accessible. Making training and upskilling more flexible by presenting it in articles, videos, podcasts, books and full training courses. 
Paris-based Edflex signed a €12 Million Series B investment last week led by Educapital, with participation from new and existing investors. The company aims to grow content offerings, teams and overall global presence. 
New funds will go towards platform expansion and innovations. EdFlex has also set a goal of growing from 850K users to 10 Million within the next five years. Upskilling and training have to be a continued investment for companies as tech and needs advance at incredible speed. So, thankfully there is still a lot to learn!